API Releases SANGEA 4.2 for Standardized GHG Emissions Reporting
Since the early 2000's, the American Petroleum Institute (API) has supported the SANGEA™ software tool for petroleum, natural gas and petrochemical companies to quantify greenhouse gas (GHG) emissions and to standardize emissions reporting. Regulatory changes, including mandatory reporting requirements for GHG emissions globally, prompted API to sponsor a major overhaul of the software including current calculation methodologies. As announced in the Summer 2013 issue of Environmental Quarterly, API chose Trinity Consultants to develop its SANGEA™-4 software, with version 4.1 released in 2013. SANGEA™ 4.2, the newest release, addresses U.S. EPA's reporting changes to the Mandatory Reporting Rule (MRR), Subpart W for Reporting Year (RY) 2015 and refines reporting functions for the API Compendium.
---
SANGEA™-4 Overview
SANGEA™-4 is a desktop database program with a user-friendly interface that can be used to manage various types of emission sources throughout a large entity for corporate performance and/or regulatory reporting requirements. In order to build a solution that would promote long-term software usability and easy maintenance, the new product replaces a spreadsheet-based application to a Web-based product developed with a Microsoft .NET framework and Access database files for source information storage.
SANGEA™-4 provides calculation methodologies in various modules based on API's Compendium 2009 and U.S. EPA's MRR for GHG emissions, Subparts C, P, W, and Y. The software includes emission factors for criteria pollutants, as well, which enables users to quantify emissions for both GHG and criteria pollutants in one tool. SANGEA™-4 also can be used to track energy consumption and normalize emissions on a production basis (e.g., ton GHG/bbl of product). The information from SANGEA™-4 is used for API GHG benchmarking studies and to comply with Federal GHG emission mandatory reporting rules for the petroleum and aligned industries.
---
U.S. EPA MRR Subpart W RY2015 Changes
On February 4, 2016, U.S. EPA released the Reporting Year (RY) 2015 GHG emission reporting form for Subpart W. The RY 2015 reporting incorporates significant changes from the RY 2014 report, including new data element reporting requirements that are not explicitly clear after the changes to the mandatory reporting rule. A summary of key GHG emission reporting requirements that are incorporated in SANGEA™ 4.2 is provided as follows:
---
API Compendium Changes
Since the release of SANGEA 4.1, we have collected feedback from international users and made a few updates to refine the reporting functionalities.
---
SANGEA™-4 Reporting Hierarchy
The reporting entity hierarchy is retained in SANGEA™ 4.2 including the reporting entity, location group, location, and source set up process, with extended steps to incorporate more source-specific requirements under multiple protocols. Sources are configured for a specific location. Multiple locations/location groups can be created under one SANGEA™ 4.2 working file (i.e., a Microsoft Access database file), which allows companies to report emissions by business operation groups, geographical regions, or regulatory reporting entities. The figure below provides a typical reporting entity hierarchy structure that can be established in SANGEA™ 4.2.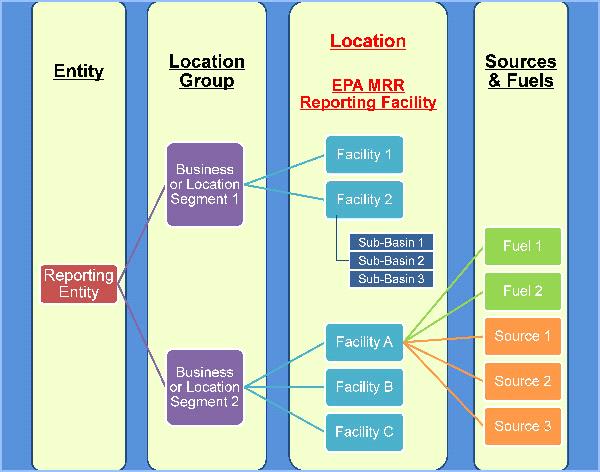 SANGEA 4.2 Reporting Entity Hierarchy
---
SANGEA™-4 Emission Source Modules and Functions
Summary of Source Modules in SANGEA 4.2
* User defined sources allow users to create source types not covered under the protocols.
There are many user-friendly editing functions included in SANGEA™ 4.2 that allow users to create, delete and edit sources quickly, such as the following:
---
SANGEA™ 4.2 is available from API for organizations in the petroleum and other applicable industries. Upon the original release of SANGEA 4, Ms. Adefemi, Senior Statistical Analyst at API, stated that, "The objective of sponsoring SANGEA™-4 is to provide a user-friendly reporting tool to the Oil & Gas industry and to encourage consistent reporting of GHG emissions. API sponsors an annual survey on GHG emissions and criteria pollutants. SANGEA™-4 will assist the industry in recording and benchmarking consistent and comparable data, and also in analyzing the environmental footprint." Many oil and gas companies in the US and abroad have adopted SANGEA™-4 for corporate GHG reporting requirements.

---
SANGEA™-4 development is led by T3, a division of Trinity Consultants that implements EH&S information management solutions (EMIS), with commercial software development expertise from the BREEZE software group. T3 has almost 20 years of experience developing custom software and implementing EMIS solutions in a myriad of industries.